Postaer Sandstein "Alte Poste" - gegen das natürliche Lager gesägt
yellow-brown sandstone, cross-cut
"Postaer Sandstein" is particularly prized for its uses in natural stonework thanks to its proven, frost-resistant quality and its distinctive colour, texture and appearance. Numerous historical buildings bear witness to this. It is a popular choice for interior and exterior applications owing to its good physical and technical properties. Its tested and certified resistance to weathering is another major asset.
"Postaer Sandstein" has been extracted from the "Alte Poste" quarry for several centuries.
Regional "Postaer Sandstein "Alte Poste" is a highly sustainable building material.
SURFACE FINISHES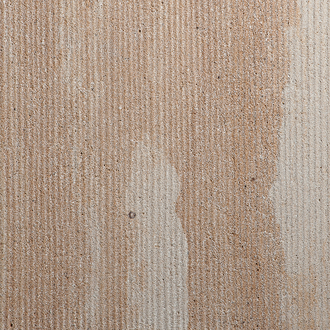 Specifications
Further trading names
Postaer Sandstein, Postaer Elbsandstein, Elbsandstein
Petrographic classification
Sandstone
Description
Buff-coloured, variegated, medium-grained sandstone from the Upper Cretaceous (Turonian) formation near Lohmen/Saxony (Germany).
Mineralogical composition
Quartz (ca. 87%), quartzite (ca. 11%) and accessory minerals (ca. 2%)
Structure
Buff to intensive buff, medium-grained sandstone with dark red spots, medium to coarse pores and a homogeneous texture.
Petrographic identification:
Quartz sandstone with siliceous cementation.
Grain colours
| | |
| --- | --- |
| Quartz: | light-buff to buff |
| Quartzite: | buff |
| Accessory minerals: | grey-black |
Proof and confirmation of suitability by EC declaration of conformity, as well as CE marking available. We will be happy to provide you project related with references, test reports and further information.
The displayed stone samples illustrate the kind of material extracted from the quarry in question. As a natural material, stone is subject to variations in colour, texture and grain structure. It can also have natural inclusions, markings or veining. A typical stone patina may develop due to material-related or environmental influences.