The Landtag of Brandenburg/City Palace Potsdam – Reconstruction of the façades
The new parliament building of the Brandenburg Landtag features the reconstructed façades of the City Palace in Potsdam. Newly produced natural stone elements were installed along with historic spolia.
After the contract for the reconstruction of the facades was awarded in 2010, our company was initially entrusted with producing about 50% of the natural stone elements (masonry and sculptural workpieces). This was partially due to our outstanding performance in the field of robot-assisted prefabrication, which enables us to complete and deliver our stonework on-time.
In 2012, the client awarded us the contract for the completion of the façades. The service package covered the entire spectrum – from the quarry to the planning, production and installation of the parts, including the anchoring. Mobile cranes and telescopic rotating cranes were used to install the workpieces. Our company took care of all of the logistical planning and execution along with the construction scheduling in close consultation with our client.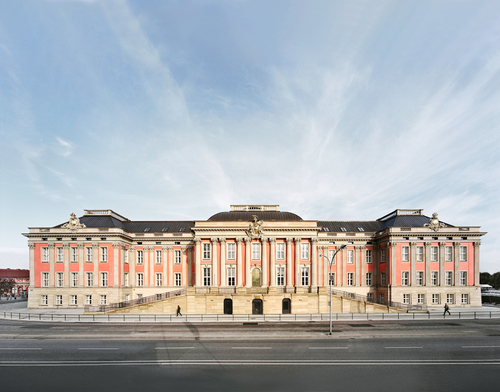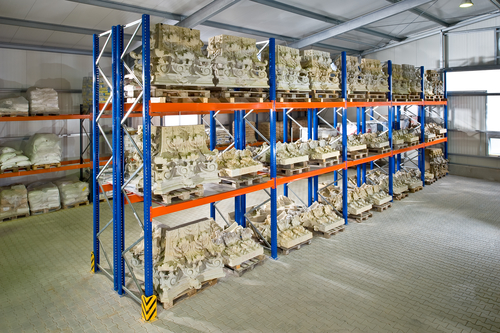 Natural Stone
Natural Stone:
Postaer Sandstein "Alte Poste" - gegen das natürliche Lager gesägt
Description:
Buff-coloured, variegated, medium-grained sandstone from the Upper Cretaceous (Turonian) formation near Lohmen/Saxony (Germany).
Natural Stone:
Königgrätzer Sandstein
Description:
Ochre-coloured, fine-grained sandstone from the Cenomanian/Late Cretaceous formation, Podhorni, Bohemia.
Project Data
Location:
Potsdam
Architect:
Peter Kulka Architektur, Dresden
Client:
BAM Deutschland AG
Project Duration:
2012 - 2013
Service
Scope of Service:
Provision of samples
Preparation of shop and installation drawings including statics calculations
Production and delivery of stonemasonry and sculptural workpieces
Restoration and installation of historic spolia
Installation and fixing of façade including erectionof the brick masonry in certain areas
Your contact
Sales projects/new construction:
Jürgen Müller
Bamberger Natursteinwerk
Hermann Graser GmbH
Dr.-Robert-Pfleger-Str. 25
96052 Bamberg