New Construction of the Entrance Building to Hambach Castle, Neustadt an der Weinstrasse
Max Dudler developed a stone cladding of sandstone for the entrance building to Hambach Castle, which was implemented with our regional Leistädter Sandstein.
Like the masonry façade, which was executed with joints just 3 mm in width, the entire roof is also made of natural stone.
Due to their geometry, the roof surfaces are not plane surfaces. The roof is executed with 8 cm thick natural stone slabs, which are reversibly installed in a stainless steel substructure. This substructure is connected to the building structure through a fixed/loose flange construction, with thermal insulation and sealing layers sandwiched between the two. A hidden gutter achieves a seamless transition from the roof to the façade.
Numerous stones in special shapes for use as ridge or barge caps round off the overall look of the building.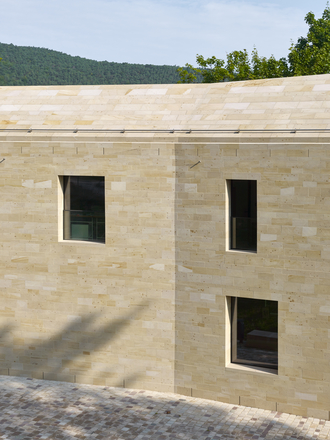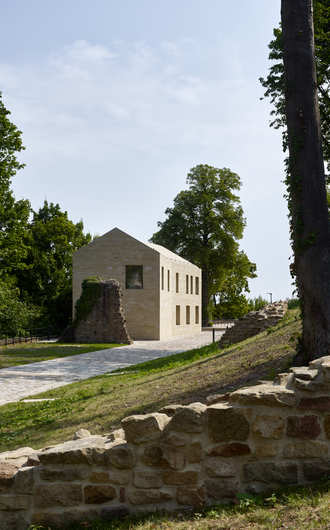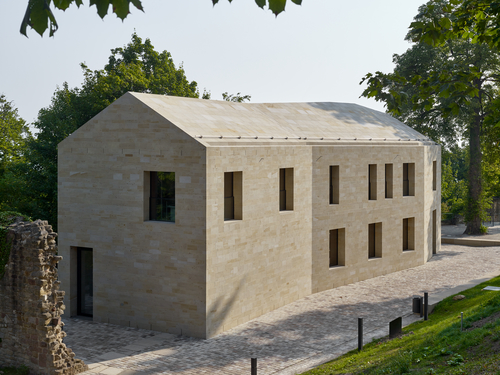 Natural Stone
Natural Stone:
Leistädter Sandstein
Surface:
honed, pneumatically-chiselled,
Description:
Beige to yellowish, fine to medium-grained sandstone from the Middle Buntsandstein formation near Leistadt/Rhineland-Palatinate (Germany).
Project Data
Location:
Neustadt an der Weinstraße
Architect:
Max Dudler, Berlin
Client:
Stiftung Hambacher Schloss vertreten durch LBB Landau
Service
Scope of Service:
Provision of samples and technical support
Preparation of shop and installation drawings including statics calculations
Production and delivery of natural stone masonry
Production and delivery of natural stone for the roof
Production and delivery of landscaping stone for surrounding areas
Installation and fixing works
Your contact
Sales projects/new construction:
Jürgen Müller
Bamberger Natursteinwerk
Hermann Graser GmbH
Dr.-Robert-Pfleger-Str. 25
96052 Bamberg