New Construction of a Municipal Service Centre, Iphofen
A consortium of architects Reinhold Jäcklein and Böhm + Kuhn drafted plans for the Municipal Service Centre's (Kommunales Dienstleistungszentrum) new building that was constructed in the historic town centre of Iphofen/Germany.
The façade is made with our Steigerwald Quartzite, a regional sandstone. It was built as a masonry wall, so it blends in perfectly with its historic surroundings.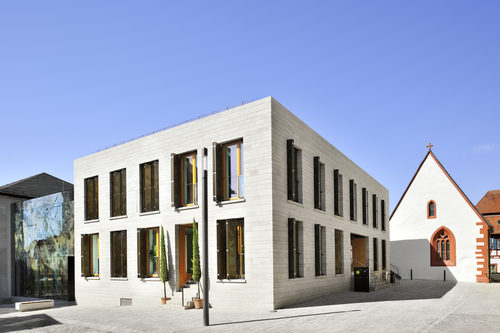 Natural Stone
Natural Stone:
Steigerwald-Quarzit
Description:
Light-coloured, fine to medium-grained sandstone from the Middle Keuper formation in the Steigerwald Forest/Lower Franconia (Germany).
Project Data
Location:
Architect:
Architekturbüro Böhm + Kuhn, Iphofen
Service
Scope of Service:
Provision of samples and technical support
Preparation of shop and installation drawings including statics calculations
Production and delivery of natural stone masonry
Production and delivery of natural stone for staircases and window sills
Installation and fixing works